Thrustmaster T300 RS: Racing Wheel and Pedals, PS4 and PC, REALSIMULATOR Force Feedback, Brushless Motor, Dual-Belt System, Magnetic Technology, Interchangeable Wheel, Metal Pedal Heads.
Works with PS5 games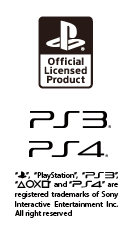 Key points:
Fast brushless motor: nearly 25 watts of power for responsive, realistic Force Feedback
Quick and easy wheel changing system: enjoy different styles of racing
Dual-belt system for smooth gaming sessions without any dead zones
Proprietary H.E.A.R.T magnetic technology: unlimited product lifespan and optimal precision
Compatible with Thrustmaster TH8A shifter and TSS Handbrake progressive handbrake/sequential shifter (sold separately)
Compatible with Thrustmaster T3PA, T3PA-PRO and T-LCM Pedals pedal sets (sold separately)
Officially-licensed PlayStation product, compatible with PS4 and PC
Works with PS5 games
About the product:
The Thrustmaster T300RS Force Feedback racing wheel lets gamers truly immerse themselves in the world of car racing, and hone their skills to improve their performance. In order to achieve this, Thrustmaster set out to create an exceptional solution for all gamers looking to radically enhance their experience in car racing games.
All products in the T300RS series (T300RS, T300RS GT and T300 Ferrari Integral Racing Wheel Alcantara Edition) feature a quick and easy wheel changing system, allowing users to enjoy racing using different Thrustmaster wheels (sold separately).
Featuring a brushless motor with nearly 25 watts of power, the T300RS racing wheel's performance is fast and precise, for impeccable control on any racing terrain. Its dual-belt system reduces disruptive noises and allows for smoother movements, for a more supple and flexible driving experience. The T300RS racing wheel features proprietary H.E.A.R.T contactless magnetic technology, without any potentiometers, for optimal precision that won't decrease over time: enjoy reliability that's recognized as a gold standard by virtual racers worldwide.
The T300RS is an officially-licensed PlayStation product, and is compatible with PS4 and PC.
Works with PS5 games (PS5 games compatibility has been tested and endorsed by Thrustmaster. At stage of publication, PS5 compatibility of the full range have not been yet tested nor endorsed by Sony Interactive Entertainment LLC.)