OFFICIAL RACING SIMULATOR FOR PLAYSTATION®4 and PLAYSTATION®3 (also compatible with PC)
Works with PS5 games
* 1080° force feedback racing wheel
* Built-in PS4™/PS3™ sliding switch
* Realistic 11"/28 cm wheel
* Large pedal set included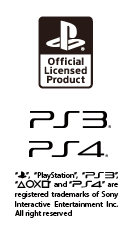 PlayStation®4-certified embedded software and PS4™/PS3™ sliding switch
Official embedded software: the racing wheel is automatically recognized by the PS4™ console
Compatible in the console's menus
PS4™/PS3™ sliding switch for optimal compatibility on both systems
PS5 games compatibility has been tested and endorsed by Thrustmaster. At stage of publication, PS5 compatibility of the full range has not been yet tested nor endorsed by Sony Interactive Entertertainment LLC.
Also compatible with PC
PC compatibility (Windows® 10/8/7/Vista/XP) ensured thanks to the Thrustmaster drivers available for download from the http://ts.thrustmaster.com/ website. The drivers allow you to make sure that you always have the latest firmware version available for the racing wheel's base.
1080° force feedback base featuring Immersion TouchSense® technology
Drive system with adjustable Force Feedback lets you feel every detail while you're racing
(the road or track's relief, loss of tire grip, braking, bumps and impacts, etc.).

Rotation angle adjustable from 270° to 1080°!

Very precise wheel: optical reading with 12-bit resolution
(i.e. 4,096 values on the wheel's steering axis)

Mixed belt-pulley and gears system
Smoother, more fluid and less noisy than helical gears with metal ball-bearing axle (for enhanced sturdiness)

Internal memory and upgradeable firmware

Robust and versatile attachment system, compatible with all mounts (desks, tables, etc.)

Realistic wheel
Built-in official buttons for PlayStation®4 (PS/SHARE/OPTIONS)
Access social functions, switch between the game and the system,navigate through the console's menus, etc.

11"/28 cm in diameter, with an ergonomic design perfectly adapted for all driving games(GT, F1, NASCAR, Rally, etc.)
Rubber-coated wheel grips

2 large, wheel-mounted sequential paddle shifters
5"/13 cm tall – 100% metal – Tact switch with life cycle exceeding 500,000 activations

Comprehensive driving gear
13 action buttons (including 2 on the base) + 1 D-Pad
Large, optimised pedal set
Pedals with wide foot rest
Each pedal's angle of inclination can be adjusted
Brake pedal with progressive resistance
Ecosystem
Compatible with the T3PA* and T3PA-PRO* pedal sets (Thrustmaster 3 Pedals Add-on)
Compatible with the Thrustmaster TH8A* shifter
*Sold separately